When staying at Casa Coste, you will feel right at home: eight bedrooms and two common spaces allow guests to relax and spend time together.
The small living room has two comfortable sofas and a large kitchen table. Guests can relax and chat, watch tv, share a meal and play cards or board games. From Casa Coste you can explore San Gregorio nelle Alpi on foot or on one of our mountain bikes.
THE BEDROOMS
Simplicity makes your holiday more authentic!
Casa Coste is the ideal accommodation for a comfortable holiday stay; all essential services are included and rates are affordable.
Eight rooms – three singles, three doubles, one triple and one quadruple – are available for those travelling alone or with friends.
Customised offers are our strength: together we can create a personalized offer for your stay.
Contact us for additional information and to book your perfect holiday!
RATES PER PERSON
Breakfast included for guests not travelling with a group
Breakfast for groups: € 5 / person
Tourist tax: € 0.50 / day, cost not included in daily room rate
High season: 01-10 Jan., 16 Apr.-03 May, 06-20 Aug., 24-31 Dec.
Rates for children: (in the same room as parents)
Age 0-2 years old: free accomodation, meals not avalaible
Age 3-6 years old: accomodations and meals 50% discount
Age 7-11 years old: accomodations and meals 25% discount
Cribs and rail guards for beds are available for children 2 and under
Services included: free Wi-Fi, linen change, cleaning, use of mountain bikes
Additional services not included in room rates: meals and laundry
Animals: only service dogs allowed
Carolina
1st floor
Quadruple bedroom: 2 single beds + 1 bunk bed
Private bathroom in room
22 m2
Linda
1st floor
Double bedroom: 2 single beds
Private bathroom in hallway
17 m2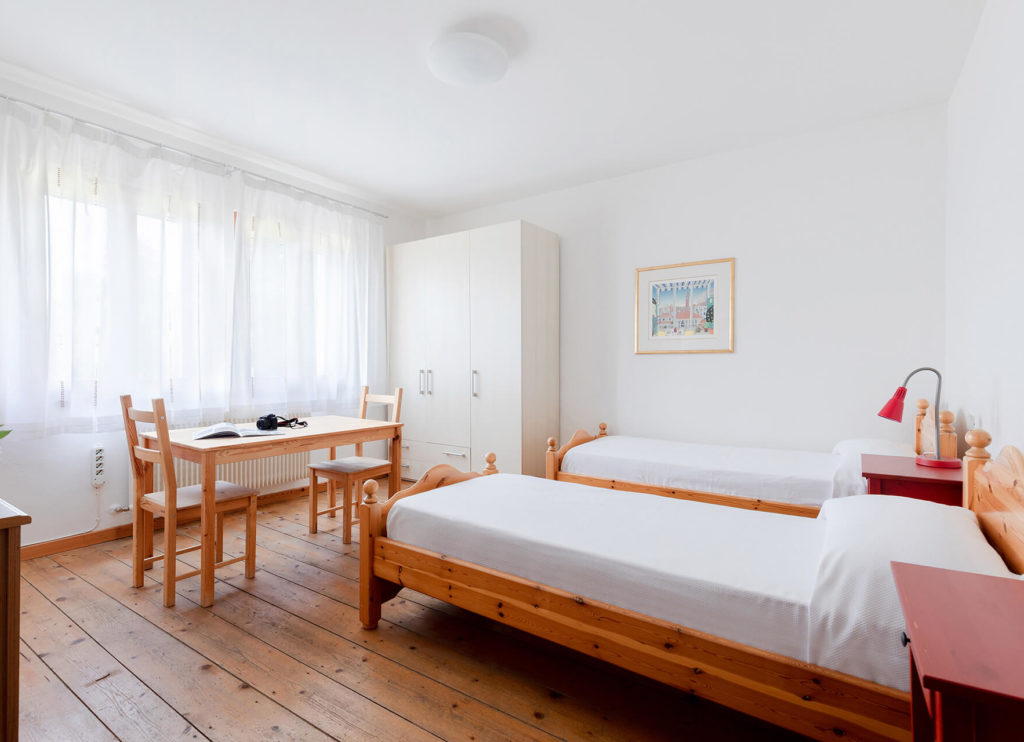 Bepi
1st floor
Double bedroom: 2 single beds
Private bathroom in hallway
17 m2
Gino
1st floor
Single bedroom: 1 single bed
Shared bathroom in hallway
10 m2
(must be reserved with either the Linda or Bepi bedroom)
Marieta
2nd floor
Triple bedroom: 1 single bed + 1 bunk bed
Private bathroom in the room
28 m2
Carlotta
2nd floor
Double bedroom: 2 single beds
Private bathroom in hallway
15 m2
Checo
2nd floor
Single bedroom: 1 single bed
Private bathroom in hallway
12 m2
(must be reserved with either the Carlotta or Toni bedroom)
Toni
2nd floor
Single bedroom: 1 single bed
Private bathroom in hallway
10 m2